Best Android Browsers for Surfing – One of the most crucial programs on every device is the web browser. When using the proper features and performance, your web browsing can be completely transformed. Due to the abundance of choices and the constant evolution of the web, it might be challenging to choose the best one. Let's examine the top Android browsers that are now on the market.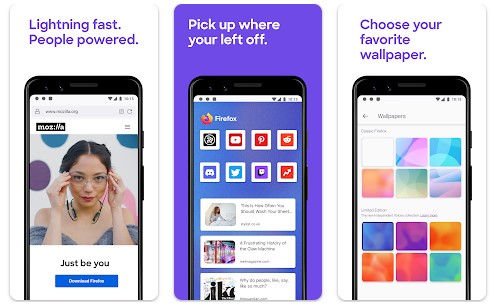 Best Android Browsers on Google Play
1. Brave Browser
One of the more recent Android browsers is Brave Browser. It was released in 2016 and contains several features. There is a built-in ad blocker. Plus, it has HTTPS everywhere and can prevent JavaScript and third-party cookies. Per-site settings are included in case you require them. Moreover, it features enhanced battery life and speed optimizations.
Even the content that it blocks can be tracked. It is incredibly useful in practice and occasionally enjoyable. The majority of the fundamental functions, including bookmarks, history, extensions, and an incognito mode, are also included. With no in-app purchases or advertisements, the app is completely free. Download on Google Play!
2. Dolphin Browser
On Android, Dolphin Browser has had a lot of success. It also boasts a respectable selection of features. This contains gesture controls, theming, flash support, ad-block, incognito mode, and other secondary features. If you require support for add-ons and extensions in addition to a native adblocker, it is available. It's not quite as appealing of a choice as it was when a reliable browser was hard to come by. It still earns a spot on this list, though, because it is more than deserving of being there. Download on Google Play!
3. DuckDuckGo Privacy Browser
For those who value privacy, DuckDuckGo Privacy Browser is a passable substitute. All of the fundamental features are present, like mandatory HTTPS, a private search, and a close button that clears your browsing history and closes all of your tabs. In addition, the app grades each website's privacy (on a scale of A–F) so you can see just how awful a certain site is. Of course, it also prevents trackers and similar software. It's an excellent mobile browser overall, but it lacks certain really important features like password syncing (unlike Firefox and Chrome). Download on Google Play!
4. Ecosia Browser
An eco-friendly mobile web browser is called Ecosia. It has all the standard capabilities, including downloads, multiple tabs, a private browsing mode, and bookmarks. It uses the open-source project for Chromium. As a result, it has a somewhat Chrome-like appearance and feel. The cause is the main attraction here. Up to 80% of the browser's earnings are donated to help plant trees. Although not a browser feature, that is unquestionably nice. This one works well and is suitable for people who don't frequently need to explore the web. It's a plus that there are trees. And it's free. Download on Google Play!
5. Firefox Browser
There are two Firefox browsers that are excellent. The default Firefox browser is the first option. It has all the good things, including built-in password managers, tracking protection, cross-platform syncing, and a stable browsing experience. It is Google Chrome's main rival, and neither one truly offers much that the other doesn't. Firefox Focus, a private browser with a ton of security and privacy features, is the second excellent Firefox choice. Firefox Focus is available here, or you may access the default Firefox browser by clicking the icon below. Both of them are top-notch Android browsers. Download on Google Play!
6. Google Chrome
Of course, we acknowledge the most widely used Android browser. This is pre-installed on many people's gadgets, so many choose to just keep using it. That is a totally fair course of action. Along with the most recent Material Design, unlimited browsing tabs, deeper integration with Android, and a ton of other capabilities for both power users and casual browsers, it syncs with Google Chrome on desktop.
The total number of Chrome browsers is four. You have the standard Google Chrome, Chrome Beta, Chrome Dev, and Chrome Canary, in decreasing order of stability. You decide at your own peril. Nearly invariably, Google Chrome has the most recent Android features before rival browsers. Download on Google Play!