Welcome to BetterMe: Health Coaching, your #1 holistic health coaching ecosystem dedicated to helping you achieve your wellness goals with a personalized and bio-individual approach. Our app has been on the market for 5 years, with over 150 million downloads, and our team consists of certified professionals who are here to cater to your every health and fitness need.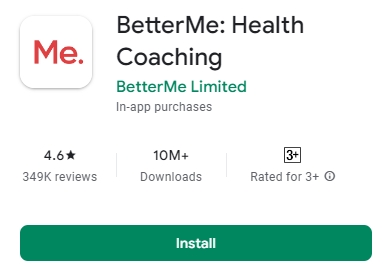 At BetterMe, we believe in empowering you to create a sustainable lifestyle that aligns with your unique requirements and preferences. Our focus is on providing you with the tools, guidance, and support you need to make lasting changes and achieve the best version of yourself.
Key Features of BetterMe: Health Coaching:
Bio-Individual Lifestyle: Embrace a personalized approach to wellness with BetterMe. We understand that everyone is unique, and our app is designed to cater to your individual needs and goals. From workouts to nutrition plans, everything is tailored to suit you.
BetterMe Band: Body Data Insights: Knowledge is power, and we're obsessed with numbers and data. Our BetterMe Band is an all-in-one health and fitness tracker that monitors your steps, activity, heart rate, sleep quality, calories burned, and more. By syncing your body data with the app, we ensure spot-on recommendations that evolve with your continually updated health and fitness profile.
Expert Guidance: Get ready to experience regular check-ins and progress evaluations by certified coaches who fine-tune your plan and make adjustments to suit your needs. Our coaches provide personalized recommendations based on your BetterMe Band health data, offer expert feedback, and provide 24/7 support without any stress or judgment.
Comprehensive Progress Tracking: We make tracking your progress easy with built-in sensors in our BetterMe Band. Together with a personal coach, you'll stay laser-focused on your goals, ensuring you stay on the right path throughout your fitness journey.
Holistic Guidance: We take a holistic approach to your health and wellness, considering not only your fitness but also your nutrition and mental health needs. Our goal is to provide you with personalized guidance that supports your overall well-being.
With BetterMe: Health Coaching, you can access over 1500 workouts, receive a daily personalized meal plan, and benefit from anti-diet and anti-restriction principles. Our app offers a comprehensive solution to help you achieve your fitness goals with the support of real human coaches.
Whether you're a beginner or a pro, whether you prefer cardio or yoga, we have something for everyone. With our easy-to-follow instructions, you'll find the right workout for you, whether at home or the gym. Our certified nutrition plans, including options like intermittent fasting, keto, and vegan, will further boost your progress.
Join BetterMe: Health Coaching today and embark on a transformative journey towards a healthier and happier you. Create sustainable lifestyle changes with our personalized guidance, expert support, and effective progress tracking. Let us be your partner on the path to a better version of yourself.