Dave is one of the most popular financial apps. It became well-known for doing away with overdraft charges. Dave is well-known as one of the top fee-free cash advance applications, and it gained notoriety after obtaining an early investment from Shark Tank's Mark Cuban.
Dave is an app for managing your money that can help you avoid overdraft fees and acquire emergency cash advances. The app includes a number of tools to assist users keep their bank accounts from being overdrawn. A cash advance is a small, short-term loan granted by a financial institution. It's not just Dave who provides this particular service. Customers should think carefully about their selections and pick the one that suits them best.
What Money Apps Are Similar to Dave?
Similar to Dave, there are other applications that provide financial management tools and short-term lending choices to help users avoid overdraft fees and manage their money. Among these apps are the following:
1. Chime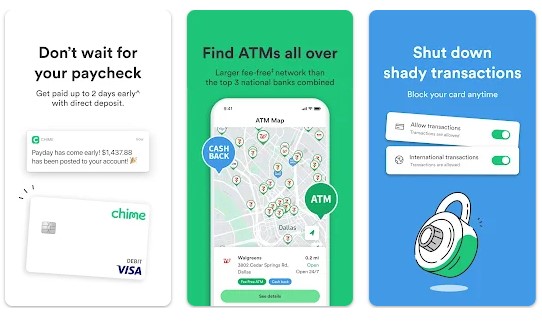 Chime provides its users with a fee-free overdraft solution called SpotMe. SpotMe allows users to claim up to $20, with the amount growing to $200 whenever a consumer passes certain requirements regarding account history and activity.
To be eligible for SpotMe, members must have received at least $200 in direct deposit in the previous 34 days and have an active Chime debit card. Customers are automatically set up for a fee-free overdraft, subject to their own limitations, once the criteria are met. The negative balance will be refunded when the user makes their next deposit.
Another advantage of using Chime is that you can get paid up to two days early. If a user additionally has a direct deposit set up, they are eligible.
Pros
No fees
Paycheck arrived two days early.
A cash advance of up to $200 is available.
Cons
Limits are determined by user activity.
You must have a valid debit card and set up direct deposit.
2. Varo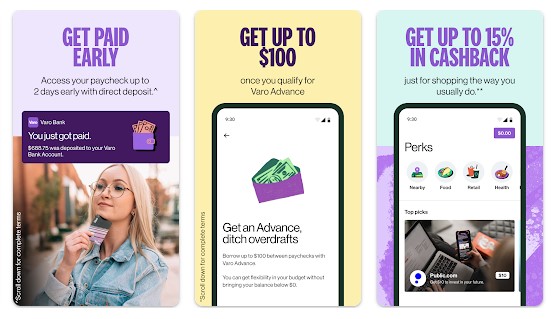 Varo provides comparable cash advance services, but with stricter qualifying conditions. The Varo Advance service requires an active account that has been open for at least 30 days. $1,000 in direct deposits must have been made in the past 30 days, and the user must have an active Varo debit card linked to a Varo bank account.
Varo members can acquire a cash advance of $20 or less for free, but anything above that will incur fees based on the amount borrowed. Varo has a $100 cash advance limit.
Users who set up direct deposit with Varo can also take advantage of its two-day-earlier payday. This benefit also includes the ability to receive tax refunds sooner.
Pros
There are no fees for cash advances of $20 or less.
Paycheck arrived two days early.
Cons
Fees that are high in percentage terms
Cash advance limit is low.
3. Earnin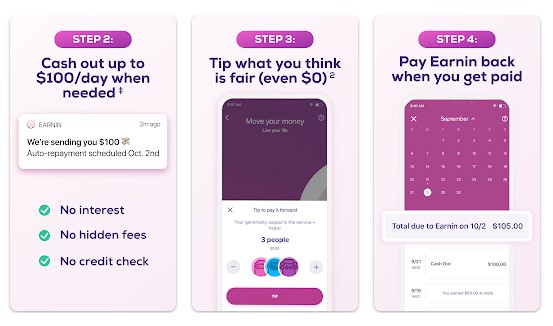 Earnin is the only service on this list that allows clients to access the money they've earned from their labor before payday. It calculates what proportion of a user's paycheck is redeemable based on where they are in the earning cycle. Assume a user is paid monthly and has already completed half of the month's work. They can claim their pay before payday. However, there are certain limitations. A maximum of $500 can be claimed early per pay period, with a daily redemption limit of $100.
The majority of cash-outs take 2 to 3 business days. However, depending on their primary bank, a user may be eligible for a "Lightning Speed" payment. Cash-outs can be handled within 30 minutes in this case, although members should be informed that costs may apply.
See also : Best Car Insurance Companies
If a user choose not to use this service, a two-day-earlier paycheck is also an option. Earnin does not charge any user fees directly, but users can tip for services.
Benefits :
There are no fees.
Paycheck arrived two days early.
A cash advance of up to $500 is available.
Cons :
Payments made at "Lightning Speed" may incur bank fees.
Only US citizens are eligible.
4. Albert
Albert provides up to $250 in cash advances with no interest or late fees. Once the user is paid, the negative sum will be deducted from the next paycheck. To access cash advances, users do not need to join up for Albert's paid subscription tier.
The $4.99 cost for fast access to cash is one limiting issue to consider. Otherwise, it will take 2 to 3 days for the cash transaction to reach the customer's account. Other advantages include two-day early payouts and no effect on credit scores for cash advances.
Pros :
There are no fees for regular delivery.
Paycheck arrived two days early.
A cash advance of up to $250 is available.
There is no influence on credit scores.
Cons :
$4.99 for same-day cash advances
5. MoneyLion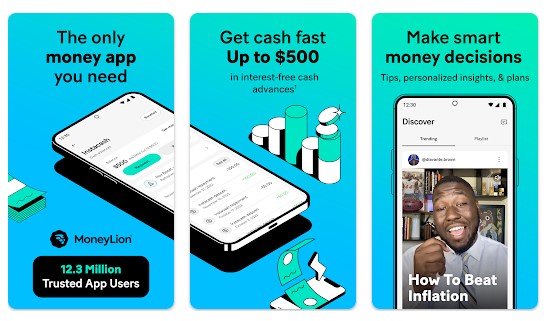 MoneyLion offers an Instacash service that allows consumers to get up to $250 in cash advances. Customers just simply link their checking account to qualify. Members can initially claim a cash advance of up to $50, but restrictions will increase after MoneyLion determines a customer has recurrent monthly income.
MoneyLion's Instacash service has no costs and has no effect on customers' credit ratings. If the money is needed quickly, a "Turbo Fee" will apply. Regular shipping takes 12 to 48 hours if you have a RoarMoney account, or 3 to 5 working days if you have a regular bank account. Fees for instant cash advances might range from $5.99 for RoarMoney accounts and $7.99 for external cards and accounts.
Members of MoneyLion can also get paid two days early by opening a RoarMoney account and linking direct deposit.
Pros :
There are no fees for regular delivery.
Paycheck arrived two days early.
A cash advance of up to $250 is available.
Cons :
Instant cash advances are subject to "Turbo Fees."
There is no influence on credit scores.
Conclusion
Cash advances with no interest might be extremely beneficial. However, in most cases, customers should only utilize applications like Dave for emergency cash advances. When not managed properly, using cash advance services on a regular basis can lead to negative money habits and the accumulation of high interest rates.