Best Signal Booster Apps – Let's eliminate any optimism before we begin. No app can artificially improve your signal strength. The majority of apps that claim to do so only flick your mobile data or Wi-Fi on and off or employ some other quite elementary method to reset the network connection. They are essentially app equivalents of turning something off and on. Yet, there are apps available that can assist you in identifying problems for easier resolution. Once you know what to look for, there are a variety of self-remedy options for such issues. Here are the top mobile network booster apps for Android, as well as additional options.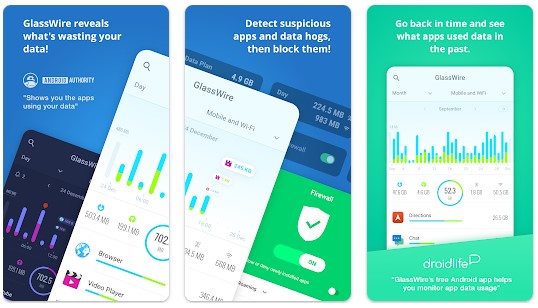 Best Signal Booster Apps for Android
1 . GlassWire
GlassWire is a valuable networking application. It displays your device's connection as well as any data sent and received. This is useful for people with sluggish connection speeds and decent signal strength, as it can assist identify programs that are secretly exploiting your data. That will not aid in diagnosing true signal strength issues, but if anything is constantly using data, it will manifest as slower speeds and unstable connections. This is the recommended starting point, as the free version allows you to examine the data usage of all your apps. Download on Google Play.
2. IP Tools
There are other IP Tools applications available on the Google Play Store, but we chose this one due to its low pricing and decent features. The application includes a port scanner, Wi-Fi scanner, DNS lookup, IP-host converter, and other features. This is a bit more hardware than your standard mobile networking tools, but it can provide excellent insight into why your signal is not behaving as it should (on Wi-Fi, at least). The pro version is available as an in-app purchase for $2.99. Download on Google Play.
3. Network Cell Info
Network Cell Info assists in locating nearby cell towers. The poor signal is caused by a combination of factors. Among them may be the distance from a tower. This application shows the location of the towers and the distance between you and them. It should function on both GSM and CDMA networks, and it also supports dual-SIM. Also included are signal measurements and a crowdsourced signal finder. You must purchase the pro version for $1.49 in order to access certain features. Download on Google Play.
4. OpenSignal
OpenSignal resembles Network Cell Info in many ways. It displays the 3G, 4G/LTE, and 5G cell towers in your vicinity. Still, this one is compatible with Wi-Fi signals. If anything can be connected to, OpenSignal can likely locate it. This one is effective for numerous reasons. The biggest feature, though, is that it compares signal strength between the three largest US carriers to determine if a different one may have a better reception in your area. There is also a coverage map, allowing you to determine whether or not you reside in a weak zone for your carrier. It is one of the best signal enhancer apps since it provides a wealth of useful information for diagnosing signal issues. Download on Google Play.
5. Wi-Fi Analyzer
There are numerous mobile Wi-Fi analyzers. This one is our favorite because it is reasonably simple to use, is frequently updated, and performs exceptionally well. The application displays not only the Wi-Fi signal from your home, but also those from surrounding residences. With this software, you may get a great idea of the network congestion in your area. You can then modify your router's settings to broadcast on less congested channels, which may resolve your signal troubles. This one supports 2.4GHz and 5GHz connections in addition to a variety of other features. Download on Google Play.